August Events

August 19 – Sparring for a Cause at Prime Muay Thai
August 26 – Prime Fight Promotions
August 26 – TBA-SA Scrimmage

End of Summer schedule updates
August Events
August 19 – Sparring for a Cause at Prime Muay Thai
Our Friends who run Prime Fight Promotions will be holding a fundraising event for some of their fighters that will be traveling to Antala, Turkey for the IFMA games. Their fighters made it to Team USA, and will be representing our country competing with the best around the world!

Information from their page will be as follows:
*Sparring For a Cause*
We're fundraising to get Leo and Coach Sonny to Turkey for Team USA!! Come out and get some rounds with friends, new and old. Juniors are welcomed to join in sparring as well. This invite extends to you and your team and any others you feel would like to attend.
Please share with your teams
Saturday, Aug 19th
12pm – 2pm (sparring)
2pm-4pm Food/hangout
Entry Fee : $25
Includes food
---

August 26 – TBA-SA Scrimmage
7:30 AM – 6 PM
Wat Buddha-Dhamma Meditation Center
8910 Kingery Hwy, Willowbrook, IL, United States, Illinois

Pure Muay Thai along with the TBA-SA will be running a youth and adult scrimmage at Wat Buddha Dhamma in Willowbrook August 26. This is an educational scrimmage with no winner or loser. Wat Buddha Dhamma will be selling delicious Thai food and live Thai fight music will be playing for parts of the day. Get your students registered for this special event!!!!
https://tba-sa.smoothcomp.com/en/event/12662
---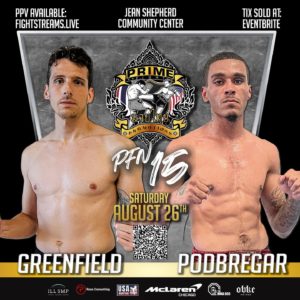 August 26 – Prime Fight Promotions
4pm-9pm
Jean Shepard Community Center
3031 J.F. Mahoney Dr, Hammond, IN 46323
Kru Steven Greenfield and Member/Fighter Bryant Lopez will be fighting on August 26 at Prime Fight Promotions! If you have been to any of our shows in the past, you know our fighters know how to throwdown. We want all the support, wear your CTBA apparel (new ones coming soon), and show some love to your fighters, Academy, and see a great show!
---
End of Summer Schedule updates
Teens Summer Schedule of afternoon and 4pm classes will end and revert back to original schedule